While many have decried 2016 as one of the worst years in memory, this calendar year offered audiences a bastion of quality albums. While it was certainly a monumental year for hip-hop, artists of all genres produced work that broke ground in their respective niches. Intricate pop vocal arrangements, demonically punk rap production, political storytelling, genre bending punk LP's and minimal synth earworms highlighted some of the most unique albums of the year. In response to the vastly changing political landscape of the world; artists tested new ways to critique popular culture, relationships, domestic turmoil and urban decay. It was a year to reflect on the lose of countless icons such as Prince, David Bowie, Leonard Cohen and Phife Dawg, almost all of whom released albums around the times of their passing. Their departures certainly burned, but the gaps were quickly filled by a plethora of rising musicians and poets ready to break ground in the anarchy of the music industry. Here's to the some of the most awe inspiring music of what was otherwise an abysmal 365.
Honorable Mentions: Beyonce – Lemonade, BADBADNOTGOOD – IV, Ze'ev – Kismet, Jenny Hval – Blood Bitch, James Blake – The Colour of Everything, Kendrick Lamar – untitled unmastered., Carly Rae Jepsen – EMOTION B SIDE B, Anderson .Paak – Malibu, Clipping – Wriggle, David Bowie – Blackstar, Whitney – 'Light Upon the Lake', Nick Cave and the Bad Seeds – Skeleton Key, Sol Patches – As2Water Hurricanes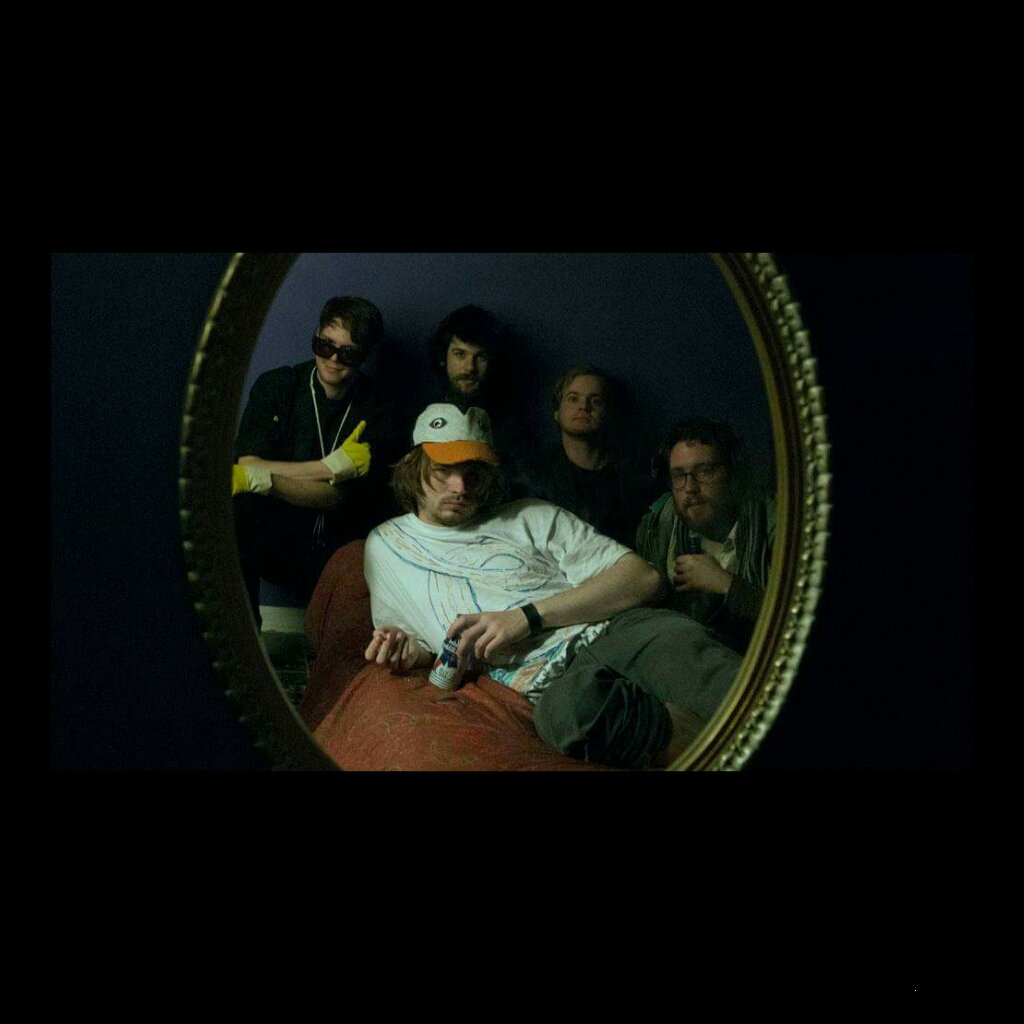 Cornstar Pornstar Farmer's Market Coinstar –

My Star My Way
Cornstar followed a trend of 2016 by suddenly leaving music listeners for a nice farm up North full of big green pastures. However, before breaking up, the band gave us one last release. My Star My Way is the band's most chaotic and humorous addition to a stellar discography. For a band centered around compositional anarchy, that's saying something. Vocalists Marc Drake and Zach Wilson play off of each other's biting parody by creating stories and skits. One such that follows a pizza guy fornicating with an older southern woman; all to the disdain of Wilson's character. "The pizza guy is b-b-b-banging my crush," he yelps. To back these scenes are squiggling guitar parts, new wave bass and spastic drums. This record is fond farewell to one of Chicago's most endearing bands.   
Preoccupations –

Preoccupations
A year after debuting a self-titled record under "Viet Cong", the newly named Preoccupations gives another self-titled LP. Another post-post-punk styled album, the band pushes their sound further with my synths, clicks and drones. While not as fast paced as their first record, the S/T is still packed of sprawling vocal hums that stretch with the marching thud of the rhythm section and haunting guitar licks. Lyrically, the album seems to deal with an individual's pressures in an overwhelming society. "You were being overcharged in the market square," Matt Flegel's baritone echo speaks on the track "Memory". Here's to more stellar releases from this quartet.
Mannequin Pussy –

Romantic
Mannequin Pussy's shifty and eclectic Romantic gives the listener a tapas platter of punk sounds. From Minor Threat styled trashes, to late 90's high school intros and ferociously transparent power chord jams. Marisa Dabice's edged growls and calming coos mixing with the rock basement slams. "At night sometimes my thoughts collide my body shakes I feel so separated from what I thought I'd be and what I am is there nothing I can do?" Dabice spits over "Denial". This release is giving contemporaries such as Perfect Pussy and Pissed Jeans competition for this decade's most outstanding straight up punk outfits.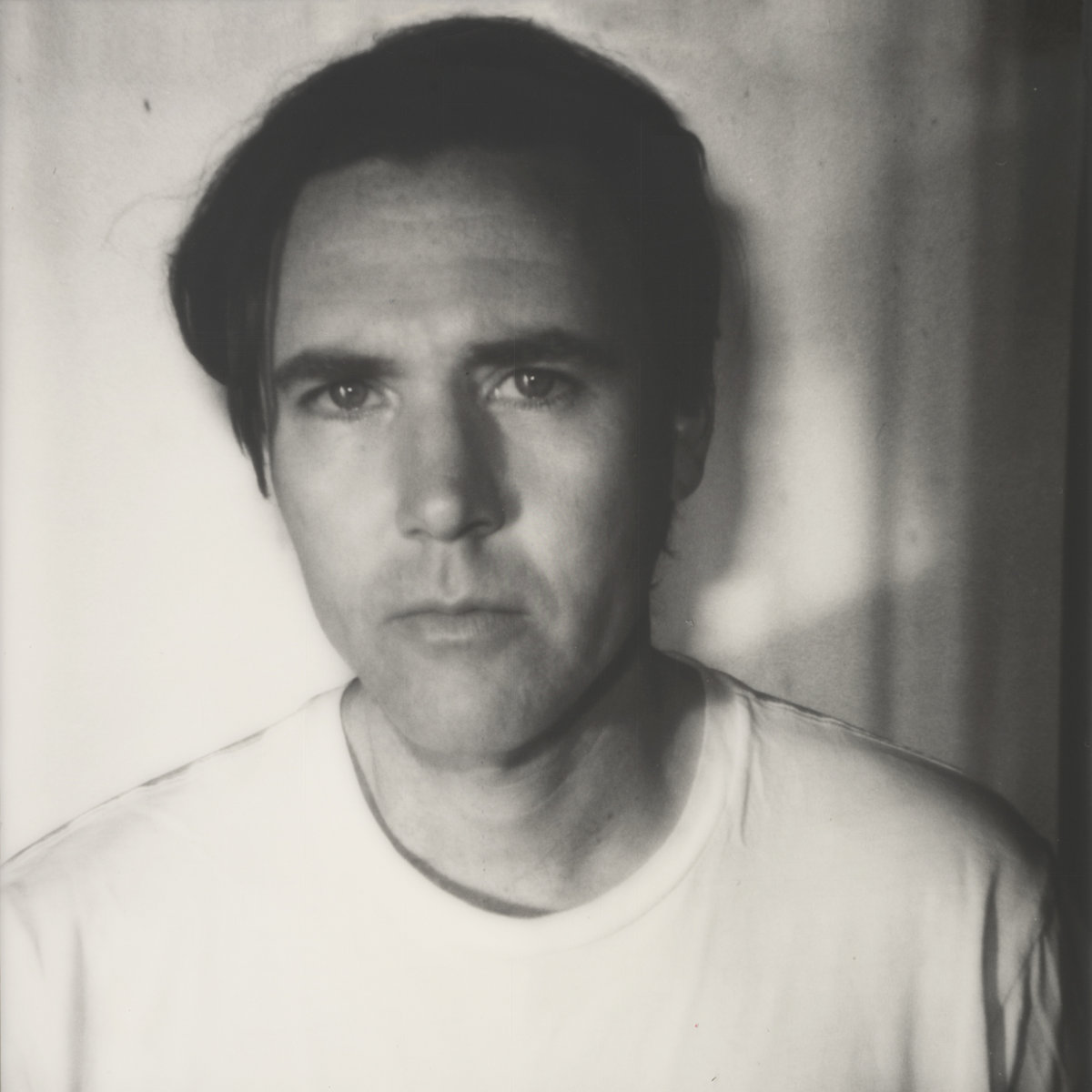 Cass McCombs –

Mangy Love
Expansive album releaser and journeyman folk-singer Cass McCombs gives one of 2016's most fantastic songwriter releases with Mangy Love. The music vet's 9th release in under a decade and a half, Mangy Love has some of McComb's most beautiful guitar and vocal combinations. His voice soothing over semi-psych hooks and gleaming blues bits. The first half of the album has some of the catchiest rock choruses in recent memory before the pop eagerness fade into more darker and elongated songs.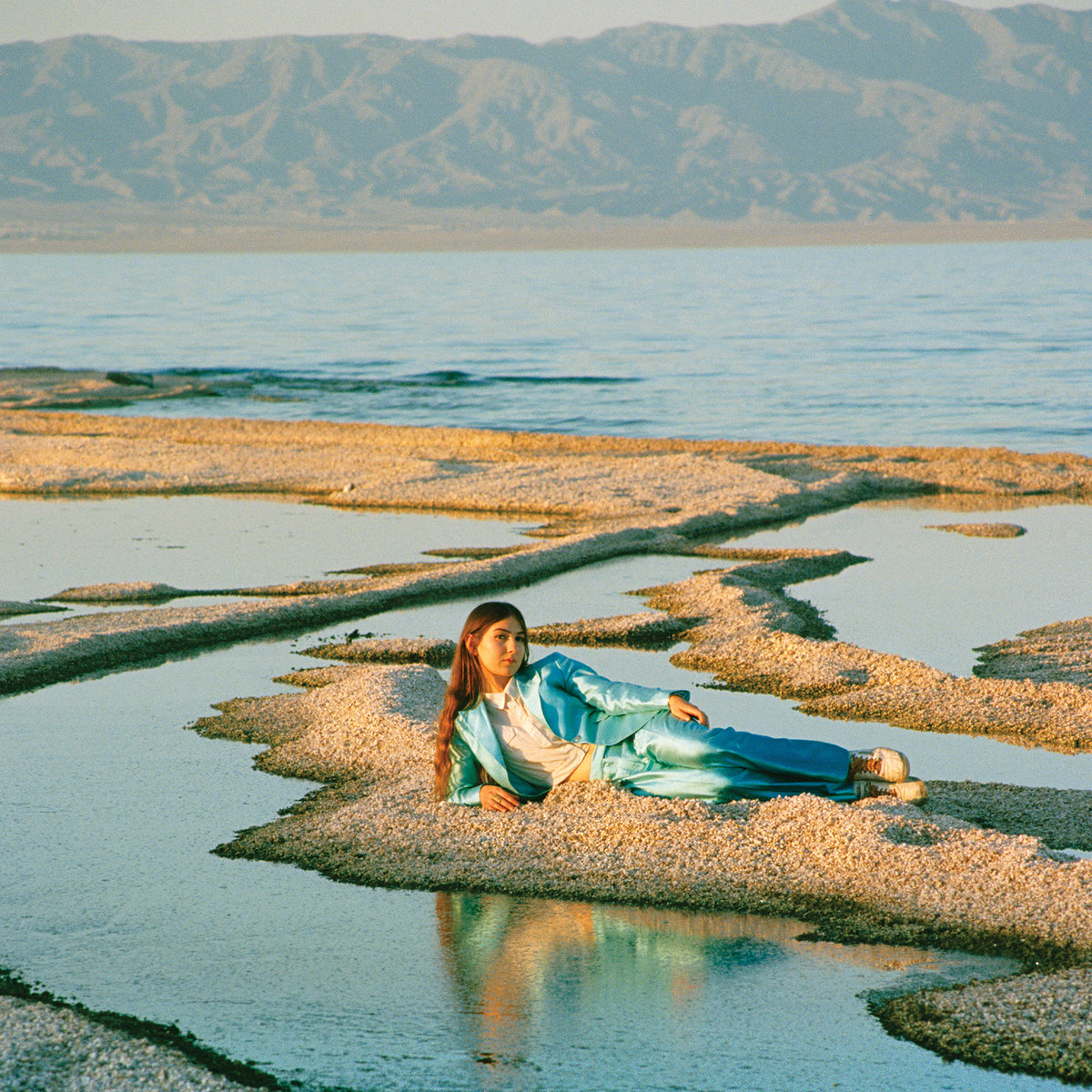 Weyes Blood –

Front Row Seat To Earth
On Weyes Blood's second release under the Mexican Summer label, vocalist and songwriter Natalie Mering delivers one of the most terrifying introspective performances from a vocal centered project. "Going to see end of days, I've been hanging on my phone all day," she doves on "Generation Why". Most of these angelic harmonies are backed by Carpenter's styled strings, organs and guitar. Sometimes the neutered synth rays rise above the throwback composition. At times, Mering emulates Imogen Heap with an auto-tuned or vocoder approach to harmonies and creating a synth part with her voice. Front Row Seat To Earth is a sure bet to leave you devastated.
Wye Oak –

Tween
One of the years most slept on records, Wye Oak's Tween seems to be an answer to the two-pieces disappointing Shriek. Shriek transitioned the band from country-blues style guitar parts to synthesizer roots. Sadly, this proved to be tedious and frustrating as that transition seems to take over frontwoman Jenn Wasner's stunning vocals. Not to mention her unique guitar style was dearly missed. Tween strikes a balance between the band's need to evolve and a die hard fans eagerness to return to roots. That amazing guitar tone and vocal glow is back, but it's touched up by the sort of modern pop production the band had been looking for. Tween delivers both old school and modernity to an anemic year of rock music.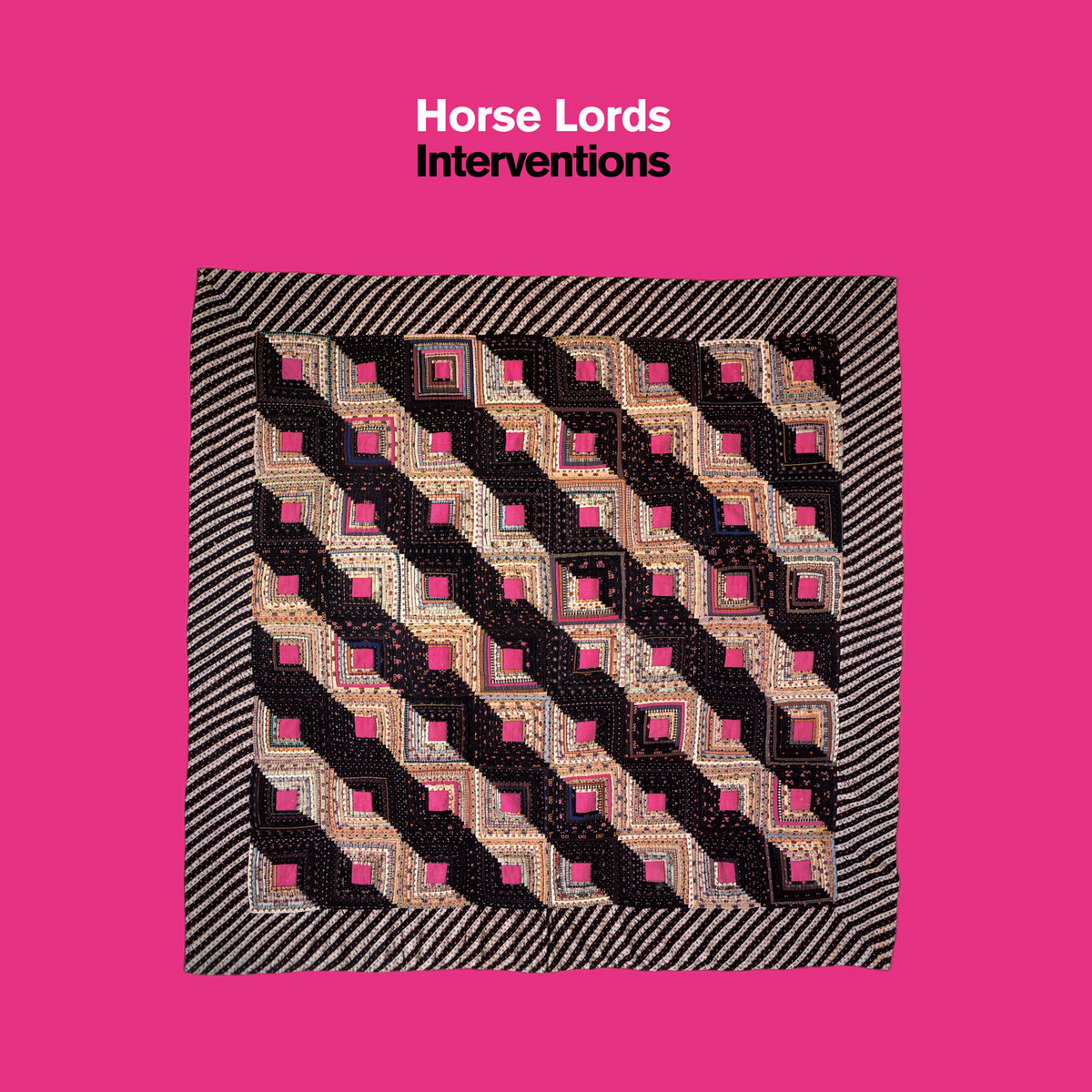 Horse Lords –

Interventions
Baltimore hometown heroes Horse Lords returned in 2016 with some fantastic experimental rock. Interventions is one of the strongest instrumental albums in years and it recalls the infamous no wave jive mixed with West African grooves and evil sax howls. The opening track "Truthers" sprawls over headphones with an expanding heave of precision and gripping drone that slowly shifts in a manner reminiscent of composer Steve Reich. Interventions invites the listener to lay awash in the polyrhythms and Morphine-esque grunts that make Horse Lords so tantalizing.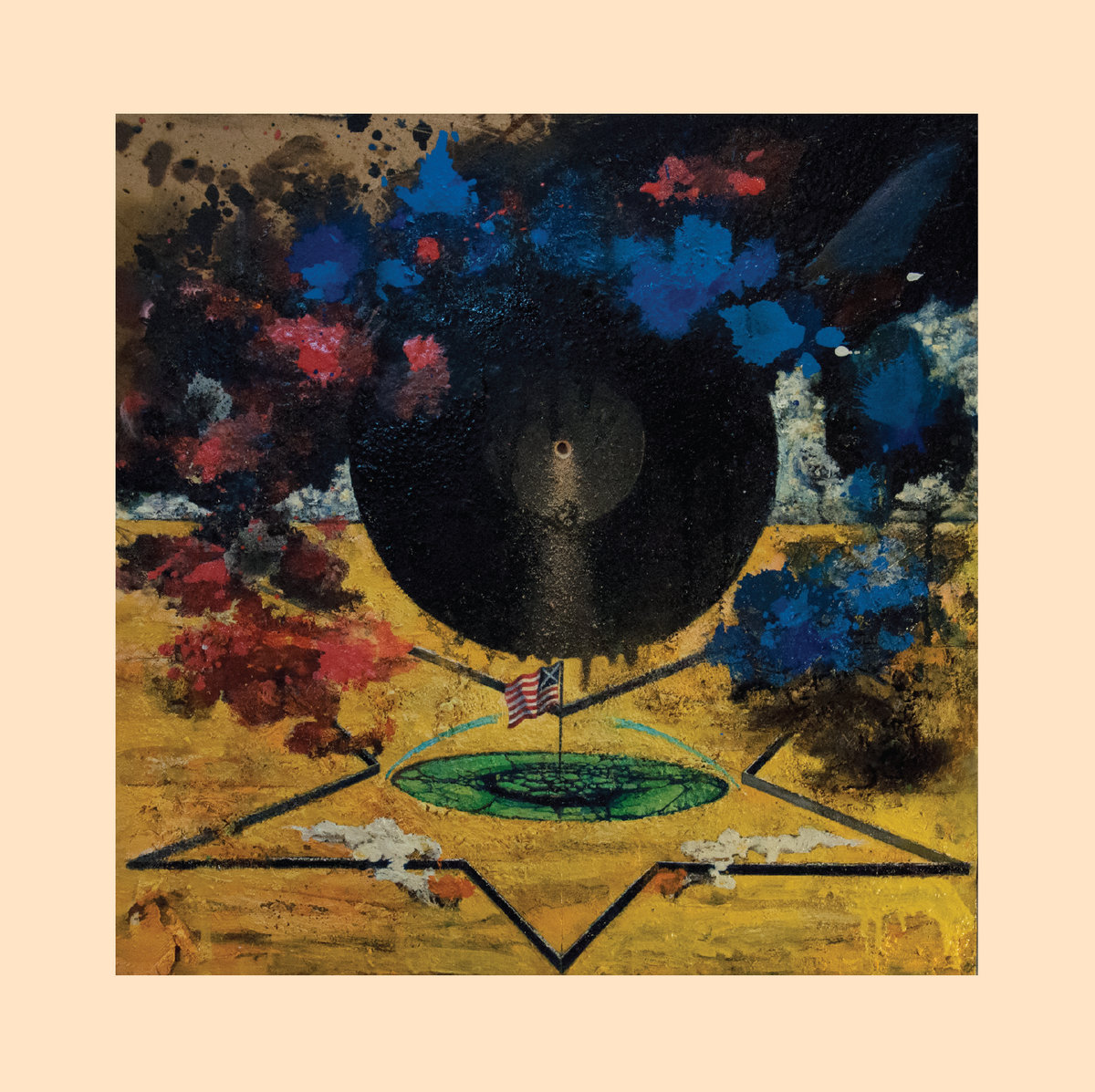 Big Ups –

Before A Million Universes
New York's shit-grinning and venomous Big Ups give punk fans an Albini style record with fantastic peaks and valleys. The instrumentation can be calm and lulling before shifting into gears and setting off tantrums of feedback and jawbreaking bass lines. Before A Million Universes reminisces in the style of punk rock that lay hidden underneath the Nirvana hype of the early and mid 90's. Unrepentant with their angst and eager to stick out forked tongues alongside the sarcastic monotone rants that snake between the punishing moshlings. Blah blah blah punk's not dead listen to this record.     
Oshwa –

I We You Me
Alicia Walters has got to be one of pops most emotional song crafters. I We You Me is the highly anticipated follow up to 2013's Chamomile Crush with even more powerful vocal performances, dramatic arrangements and stellar math rock style breakdowns. This album's initial single "Ultrafluorescent" references a Bruce Springsteen lyric and it's so fitting because Walters seems to relish in the coasting car ride excitement that both her and Springsteen write music for. Also like Springsteen, she's willing to push her sound into a variety of genres. While she wouldn't be the first art rocker to dabble in autotune and nostalgic synths, songs like "Marvelous" showcase Oshawa's capacity to shade albums in colorful chameleon tones.
Kanye West –

The Life of Pablo
After months of speculation, the ever-controversial Kanye West has released his most collaged and bizarrest release to date. The irony of the rant "I Love Kanye" is that this album is Kanye's past, present and future. Glimpses of early 2000's West streaking past the epileptic spasms of staple choirs samples, 808 synths and references to Kanye's turbulent personal life. "Famous" has got to be one of the most bizarre radio raps ever written as it miraculously shifts into Sister Nancy's reggae classic "Bam Bam" whilst referencing a Nina Simone lyric as the hook of the tune. Who else besides Kanye would just mix in Desiigner hit "Panada" into a two part rap anthem? At this point rap fans should accept the careless attitude of Mr. West in the studio because rarely does it ever fall short of quality hip-hop.
Evasive Backflip –

Evasive Backflip's Turbo Chili Children
Chicago's most fascinating experimental punk band Evasive Backflip returns with their most potent LP to date. Turbo Chili Children offers up the fantastic mix of bloody bass lines, delicately sinister guitar shrills and fantastically precise drums that one should expect from an Evasive release. The two-headed backfield of vocalists and guitarist Josh Huggins and bassist Marcus Drake are as aggressive and biting as ever. What separates this release from other Evasive records is how thorough Turbo Chili Children is. It feels as if every part of every song was mulled over with the most precarious of ears and much longer than previous releases, but not in a way that's overwhelming. Evasive never fails to deliver an amazingly intricate noise rock.
Young Thug –

JEFFERY
Thugger blessed us with three mixtapes this year, but JEFFERY stood out for its stunning production and swerving flow from Young Thug; his drawl slips and slides along the flooded and shiny hip-hop rhythms. Despite the return of Gucci Mane, Thugger is still the prince of the Dirty South. He's outlandish as ever and full of even more homoerotic implications and candied syllable twists. His androgyny and eagerness to make other rappers uncomfortable is showcased on JEFFERY more so than his other releases this year. This piece of rap music would have been higher if not for some of the even more outstanding hip-hop releases of the year.  
Isaiah Rashad –

The Sun's Tirade
Isaiah Rashad's debut studio album brings us some retro tinged hip-hop that seeps its roots deep into R&B and jazz style production. It's not a coincidence that the album's strongest track "Wat's Wrong" features Kendrick, as this album feels like it takes much of its influence from K Dot's early projects, which were tinged with 70's polish. Rashad tackles bars with a ruffled drawl and an apathetic tone that matches up perfectly with the summer daze of the albums 17 tracks. However, this album stands out from the pack for its willingness to break out of its comfort zone with brash stomps like "Park" and "A Lot". Sun's Tirade is a strong first drop from one of rap's newer faces.
Bon Iver –

22, A MILLION
The music landscape has changed dramatically since Justin Vernon dropped his breakout record Bon Iver, Bon Iver. No longer are the twangy and wholesome folk anthems of yore the style. It had been many moons since that style was popular when Vernon gave us the drastically different 22, A MILLION. Personally, expectations were pretty low, but the most recent incarnation of Bon Iver proved to be a moving and potent release. The production is seamless while being completely wrapped in a layer of distortion and computer chirps and clicks. "715-Creeks" is a stunning vocal track of rock sediments, with each layer offering a different texture to Vernon's beautiful poetry. "Turn around you're my A Team" he croons in the wrap of studio effects. The composition fires off orchestral arrangements mixed with futuristic sighs from broken supercomputers. The folk element of Vernon's sound is still there, it's just dipped its toes into the 21st century bustle.
Denzel Curry –

Imperial
The most promising member of this year's edition of XXL's Freshman Class, Denzel Curry's most war ready album finds the Floridian rapper firing off rhymes in his typical assault rifle fashion. Curry is a sprinter, only taking breaks to let the extremely poised production catch up with him. He is also a fine mix of various rap lyrical tropes. He's braggadocios, but still reps the old neighborhood. He can be a party animal, but he can also be introspective about his upbringing and environment. Imperial has what his fellow freshman seem to lack, which is a commitment to the practice of spitting decipherable bars. This doesn't make any of the other XXL freshmen inherently inferior, but it's hard not to see why Curry is the most promising rapper to come out of 2016 when you listen to Imperial.  
Tim Hecker –

Love Streams
Love Streams emulates the environment that it was recorded in. Ambient productionist and composer Tim Hecker spent much of 2015 recording this enthralling composition in Reykjavik, Iceland. The record crystallizes the vocal samples of the Icelandic Choir Ensemble into a glacial echo chamber that spills from its prisms a melodic allure. Hecker is known for his enchanting arrangements and Love Stream is no different with the ethereal glow of this practiced disciple of Eno. Hecker takes the root of ambient music and contorts it into a natural park of exotic sounds and textures and that's what makes this LP such a capturing piece of music.
Danny Brown –

Atrocity Exhibition
Danny Brown's third studio release finds the Detroit rapper continuing his "downward spiral" of mental strife, substance abuse, and hedonism. What separates this record from his previous releases is the aggressiveness and vulgarity of the production he spits behind. It's raunchy and clumsy, yet calculated and cunning. It's as brooding and verbose as Brown's vernacular. Brown continues to refuse to shift to the "mumble and hook" strategy of mainstream hip-hop. Outside of "Really Doe" (which is arguably the hottest track of 2016) the album is exclusively rapper's rap. Ironically, though, what makes this album so special is that it can appeal to any brand of hip-hop head. It's got the type of bangers that we expect from Brown, but is still incredibly serpentine and complex. That's why it's cracking the top 15 of this list.
ANOHNI –

Hopelessness
Rarely has electronic music partaken in political commentary. This is where Antony Hegarty comes in. Formerly of the sentimental art pop band Antony and the Johnsons, ANOHNI's debut is backed by production from two of the most groundbreaking producers in electronic music with a solid pairing of Hudson Mohawke and Oneohtrix Point Never. Despite the bombastic EDM stylings that Anohni harps over, her lyrics are strictly poli-sci. On HOPELESSNESS the operatic vocals give tongue and cheek pop treatments on issues such as government surveillance, drone strike and global warming. "I want to see the animals die in the trees, let's go let's go it's only 4 degrees," she smirks. Her Nina Simone style drawl pairs up in the most strangely perfect way with Hudson Mohawke's signature horn blasts. This is a protest album like we've never seen before.
Frank Ocean –

Endless
Once know as Boys Don't Cry, the highly awaited follow-up to channel ORANGE turned out to be two albums. The main attraction was titled Blonde, but prior to that release came Endless with a visual album aspect that finds Mr. Ocean building a wooden staircase in an industrial workshop. While Blonde was certainly a strong LP, it didn't have the kind of groundbreaking musings that some listeners may have anticipated. That's where Endless comes in, with it's delicate and unique composition mixed with the vocal vignettes that showcase Frank's impeccable singing ability. Endless feels more personal and maybe it's because these may have been tossed demos for Blonde. We might never know, but this visual album has some of the most fascinating production choices and spouts of soulful goodness that Frank Ocean will be delivering into the next decade and beyond.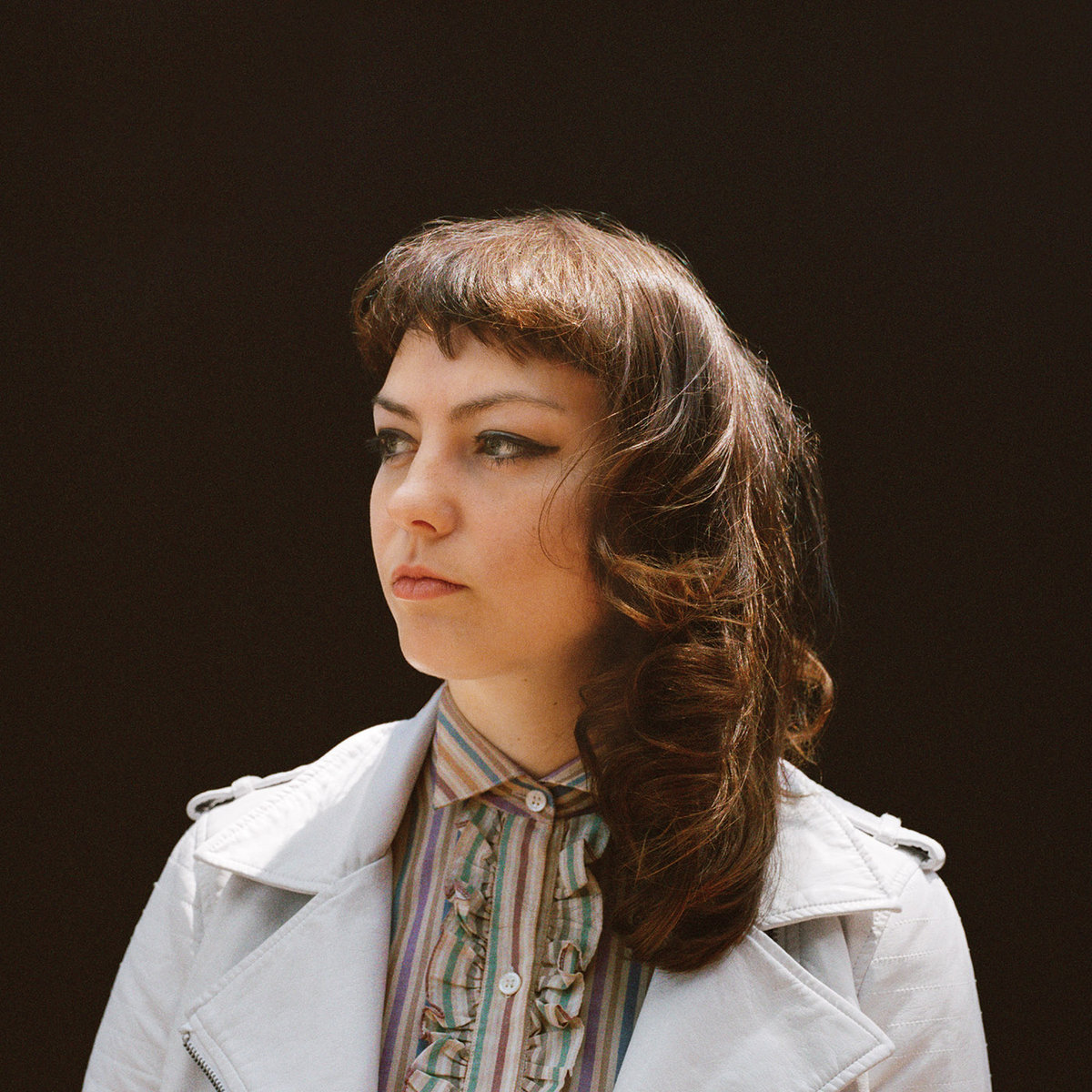 Angel Olsen –

MY WOMAN
It was only a few years ago that folk songstress Angel Olsen dropped critical darling Burn Your Fire for No Witness. She returns with the even more gripping and gorgeous MY WOMAN. This LP still has the heartbreak hotel sentiments of Olsen's other albums, but continues to build on the momentum of her distinct voice and lyrical choices. Olsen tackles femininity and all of it's domestic and abroad difficulties all the while her backing band lays down vintage 70's folk rock and psych rock jams. MY WOMAN has even more pop twang than her previous efforts, as the irresistible "Shut Up Kiss Me" is a true gem of a yearning bubble gum explosion. Olsen's realistic and palpable emotions are what will keep this spinning on turntables for years to come.  
Nicolas Jaar –

Sirens
The second studio project of Nicolas Jaar is his most accessible yet, but that shouldn't deter committed fans from Sirens. This album is also his most homocentric, and features some of the most fiendishly charming vocals from Jaar. While only six tracks, the Chilean-American gives us an odyssey of particular noises, enchanting rhythms and enticing twists and turns. The canvas he paints on is tinged with his South American heritage, but then changes gears into a gothic train ride to the pulse of a few simple notes. As the album melts into a quiet throne, we are then served an extended cut of genre transcending house music on the track "No" before ending on the Lynchian jukebox croon of "History Lesson". Sirens is one of the years most dynamic records and the genre bending is the proof in the pudding.
Death Grips –

Bottomless Pit
Despite the Internet's bizarre obsession with the Sacramento trio known as Death Grips, one that has created a cult of personality, the experimental hip-hop group continues to churn out fantastic records. Bottomless Pit is no exception and proved to be their strongest release since their peak performance in 2012, when they released both The Money Store and No Love Deep Web. This time around, MC Ride is even more vile and filled with contempt and the sample choices and time signature adjustments are as satanic as ever. It is the order within this chaos which makes Bottomless Pit such a brutal release. Death Grips is as tight as they have ever been and Andy "Flatlander" Morin continues to push the envelope in terms of how fucked a piece of engineered music can get while still remaining intact enough to have a complete song.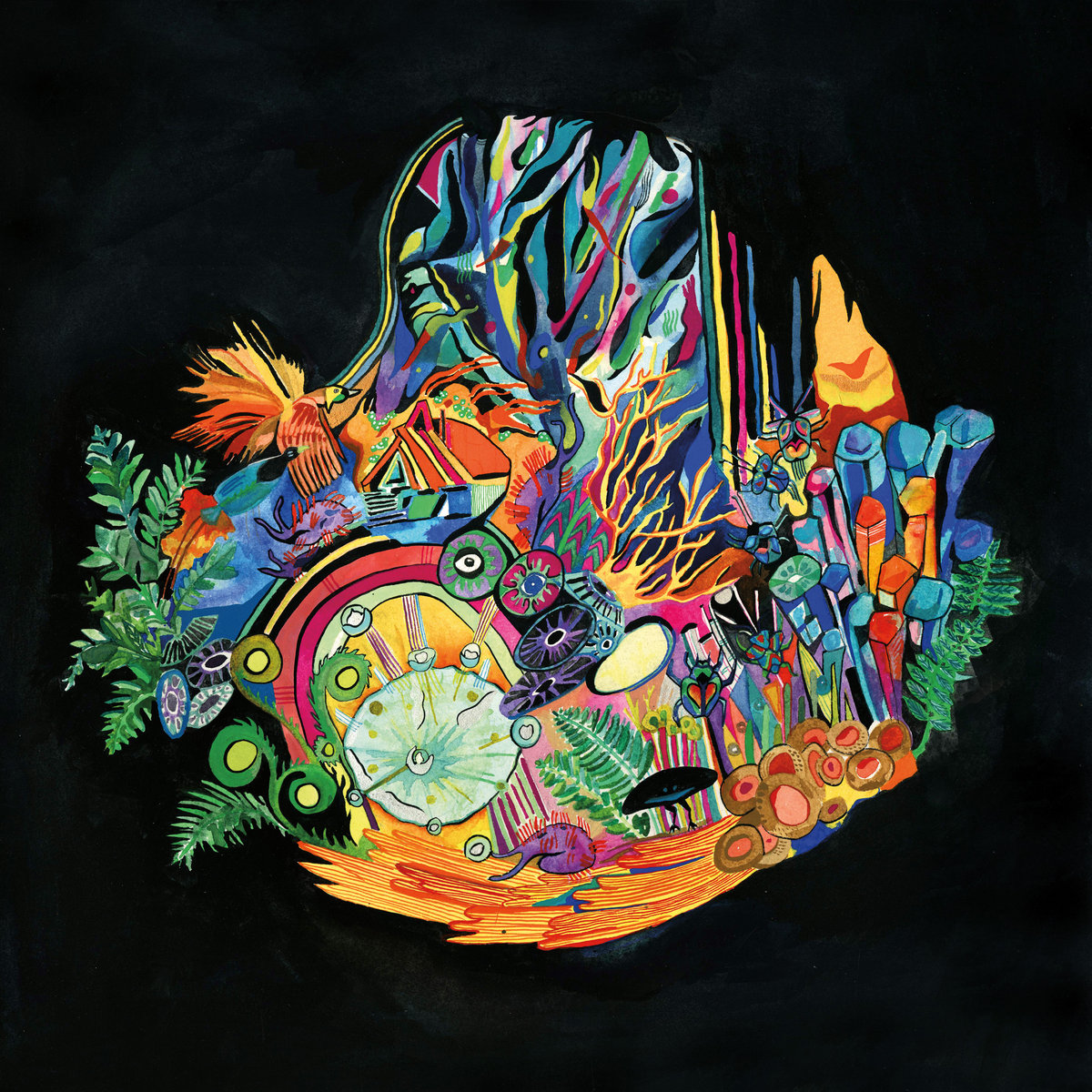 Kaitlyn Aurelia Smith –

EARS
EARS bubbles and evolves like the holistic nature of its electronic composer and ambient artist Kaitlyn Aurelia Smith. The Pacific Northwesterner draws influence from the biological art that she immerses herself in. EARS has its head to the ground and seems to sense the vibrations of the planet. It takes the tiniest hums of non-human life and captures it in a glass jar. It creates a sense of a sonic rainforest that rises and pushes past the ferns and bursts with color and holy vocal slurs that Smith toils with. Her use of the incredibly complicated Buchla 100 synthesizer highlights her commitment to the craft of perfecting truly original music. EARS is easily the most spiritual album of the year with its meditative quality and glowing disposition.
A Tribe Called Quest –

We got it from Here… Thank You 4 Your Service
It was only a few months after the passing of Tribe's founding member Phife Dawg and a few weeks before a Donald Trump election that the legendary rap group released their final LP. In a year filled with disappointments, We got it from Here was not one of them.  Decorated and primed by producer Ali Shaheed Muhammed, this record does not lean on the nostalgia factor. Rather, it builds off the textures and cues of previous Tribe LP's to create something brand new. While "We The People" sounds vaguely familiar in its delivery, the creative choices made by Phife, Ali and Q keep the tracks fresh and stocked with new and updated material and bars. On top of this, it's most likely the most politically vocal Tribe album in a time where America is in intense turmoil, which is what makes it so culturally relevant. "When we get hungry we eat the same fucking food" is a lyric that really resonates, especially after this nightmarish election season.
Show Me the Body –

Body War
Easily the most distinguishable punk sound in recent memory, Show Me the Body's Body War is a force to be reckon with. Comprised of only three members, but carrying the sound of an industrial lot, SMtB is unrelenting in their harshness and spit-take New York sensibility. You can here the city rats and rusted metal crawling from vocalist and banjo strummer Julian Cashwa Pratt's throat. He's part Gang of Four and part Beastie Boys, but all inertia. Body War is relatively straight forward in its pissed mood, but punches the listener with a barrage of sharp and animalistic sensations. "Chrome Exposed" demonstrates the multiplicity of the band's sound, with a whooping synth wave that crashes into a hollering breakdown of snare and a simple bass line with a CBGB tasting freestyle. Body War will leave you yearning for a tirade of dirty basement shows.
Porches –

Pool
Porches blossomed from a bedroom project to full fledged cult favorite in a matter of only a few years. Created by the eccentric Aaron Maine, Porches stuck mainly to a kind of Talking Heads sensibility that is governed by pop experimentation, off putting lyrics and emphasis on unique melody. This rang true for Pool as well, but instead of the kind of quirky pop rock Maine had been known for, he created a synth and drum machine driven earworm factory. Every song on Pool will be your favorite until a certain note or harmony of another song on the LP captivates you, and has you replaying that song over and over again. Maine's minimalism and Morrissey-esque yearnings on this record make it essential for both one's most blissful and most depressing moments. "Black water by my side, I will go out tonight, I want to be apart," swoons Maine on "Be Apart". He's desperate to relieve himself of lonesome to the point where he must force himself to leave the house. It's the sentimental ideas of Pool that makes it so relatable. Porches is the platform for this year's most captivating pop album.
4. Solange – A Seat at the Table
While all the focus was on Solange's superstar sister Beyoncé, Solange approached her 2016 album with a more reserved nature. No flashy visual albums or Super Bowl halftime performances. Just a completely stunning album that, like Angel Olsen's MY WOMAN, speaks to the virtue of womanhood. However, Solange is tackling the (much more difficult) topic of black womanhood. "The most disrespected person in America is the black woman," Malcolm X famously said. Solange takes the frustrations and strife of this position and uses it as a brush to comb through the politics of kinky hair. Navigating her place in the world. The tribulations of everyday lived experiences of a woman of color. All of this to the backdrop of accurate production choices, sweeping synth waves hiding behind intricate piano keys and consistent drum patters. With an expansive 21 tracks, A Seat at the Table is a conscious sociological diary comprised of neo soul jazz and R&B triumphs.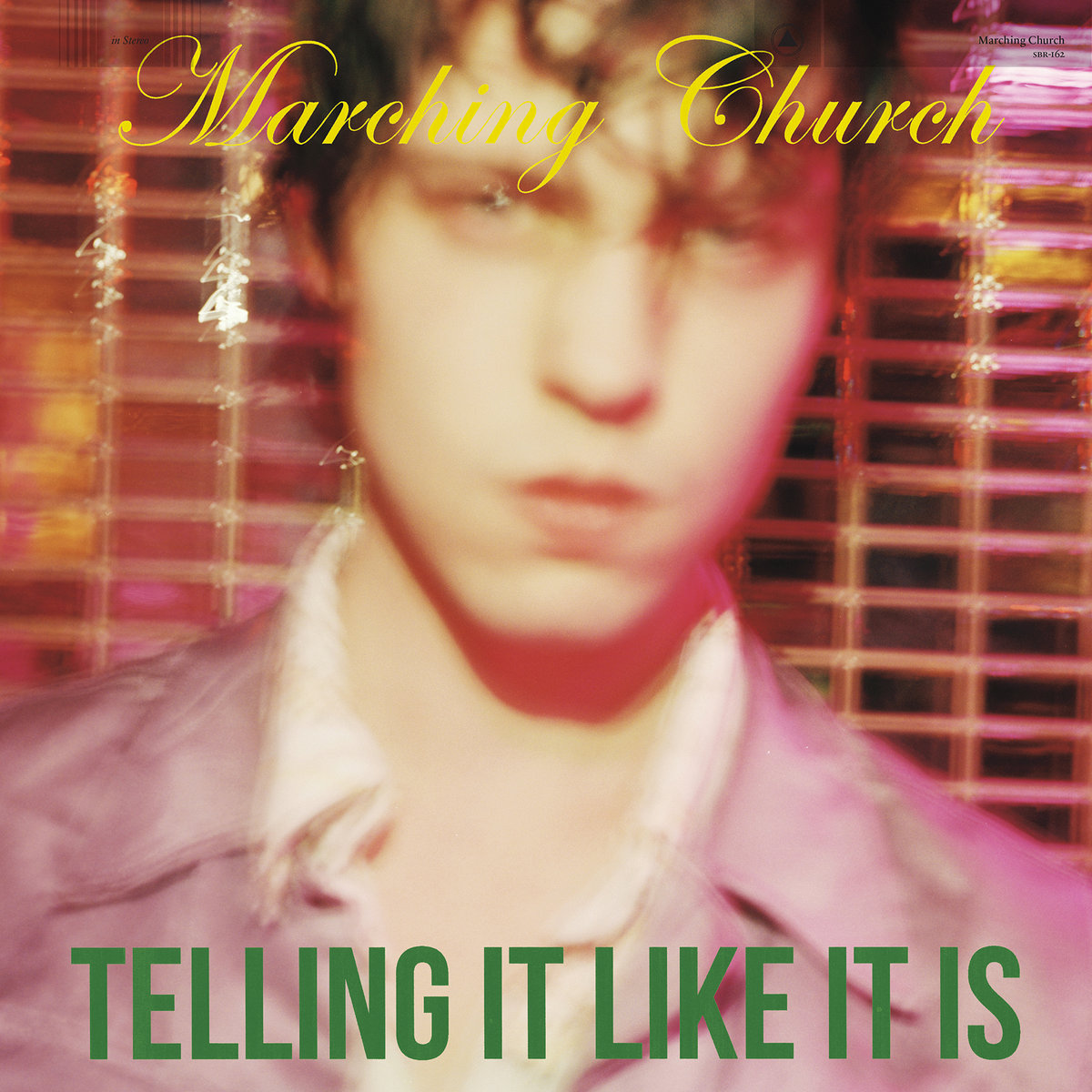 Marching Church –

Telling It Like It Is
Once just a musical outlet for Iceage frontman Elias Bender, Marching Church eventually became a fledgling band with a freshman release with the Sacred Bones label. Now they return with Telling It Like It Is. This record is chock full of distinct sounds, from the gasping sputters of Bender's smug voice, to the groaning violins and tingling accordions that echo off the primitive drum patterns. Telling It Like It Is is a time capsule of Nick Cave, Robert Smith and Siouxsie Sioux structures and deliveries, but remade into something that stands completely on its own. Marching Church knows its influences and seeks to both praise and destroy them simultaneously. They want to bring back the swaggering tucked shirts and piercing eyes of the old town; to revel in the Tom Waits ego. It is only for a second, though, and they push the sonic limitations of the post-punk genre far beyond what is expected. Marching Church is quickly becoming the flagship band of the Denmark punk scene.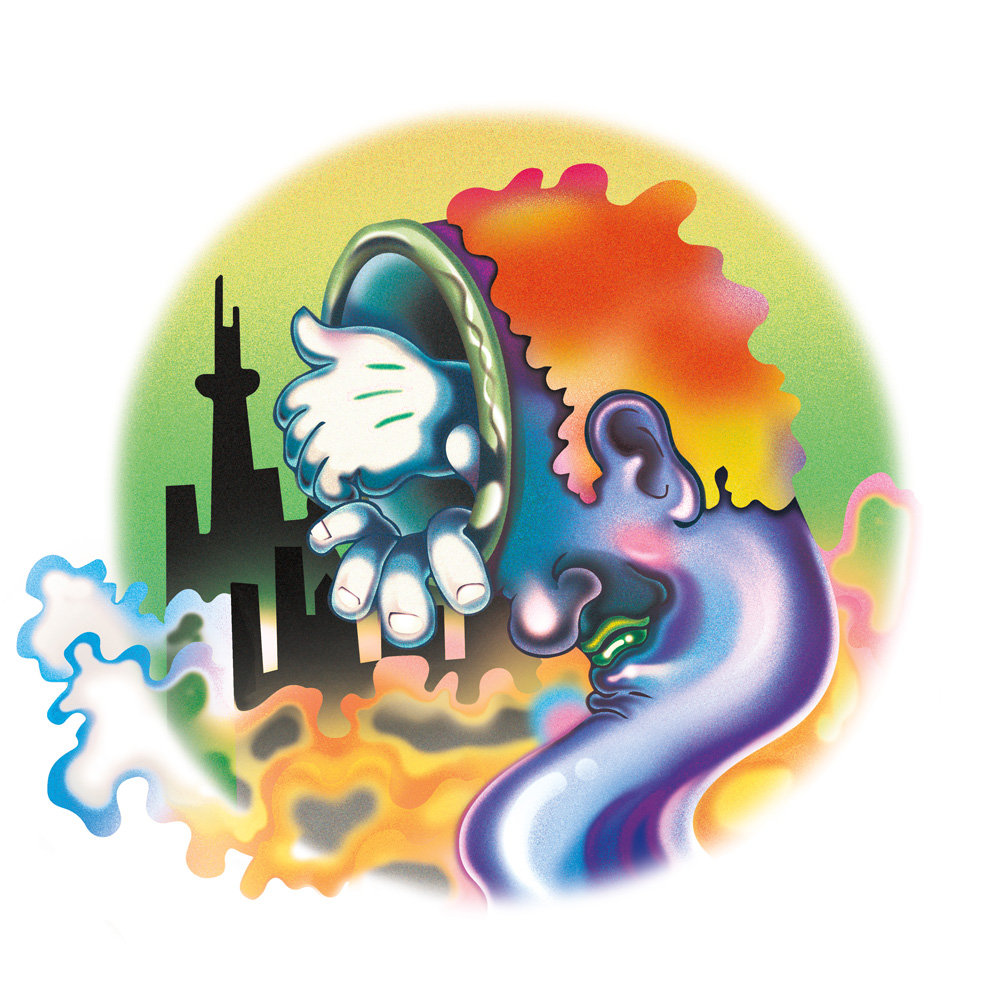 Guerilla Toss –

Eraser Stargazer
G-Toss, as they are referred to by their fans, is the most free forming and careless bands in not just punk, but the underground music scene as a whole. Eraser Stargazer finds the band continuing to play with sporadic time signature bends and melodic shifts in emotion. Kassie Carlson's distinct delivery is rooted in everything from Tom Tom Club to Kim Gordon. Her lyrical ponderings a mix of childish roleplay and hazed out psychic visions. The rhythm sections creates the band's most specialized grooves to date and there is not even a hint of irony in the colorful and cartoonish synths that slam down across the funked out bass lines. On "Grass Shack" Carlson commands the mic with a baby talk style rant while her bandmates toil away on the controlled anarchy of their sound. Guitar continues to be the hidden ingredient in the Guerilla Toss melting pot, it's tinkering and stringy riffs slicing through the no wave carnival. This records pushes the band even further into the realm of truly unforgettable musicianship and songcraft.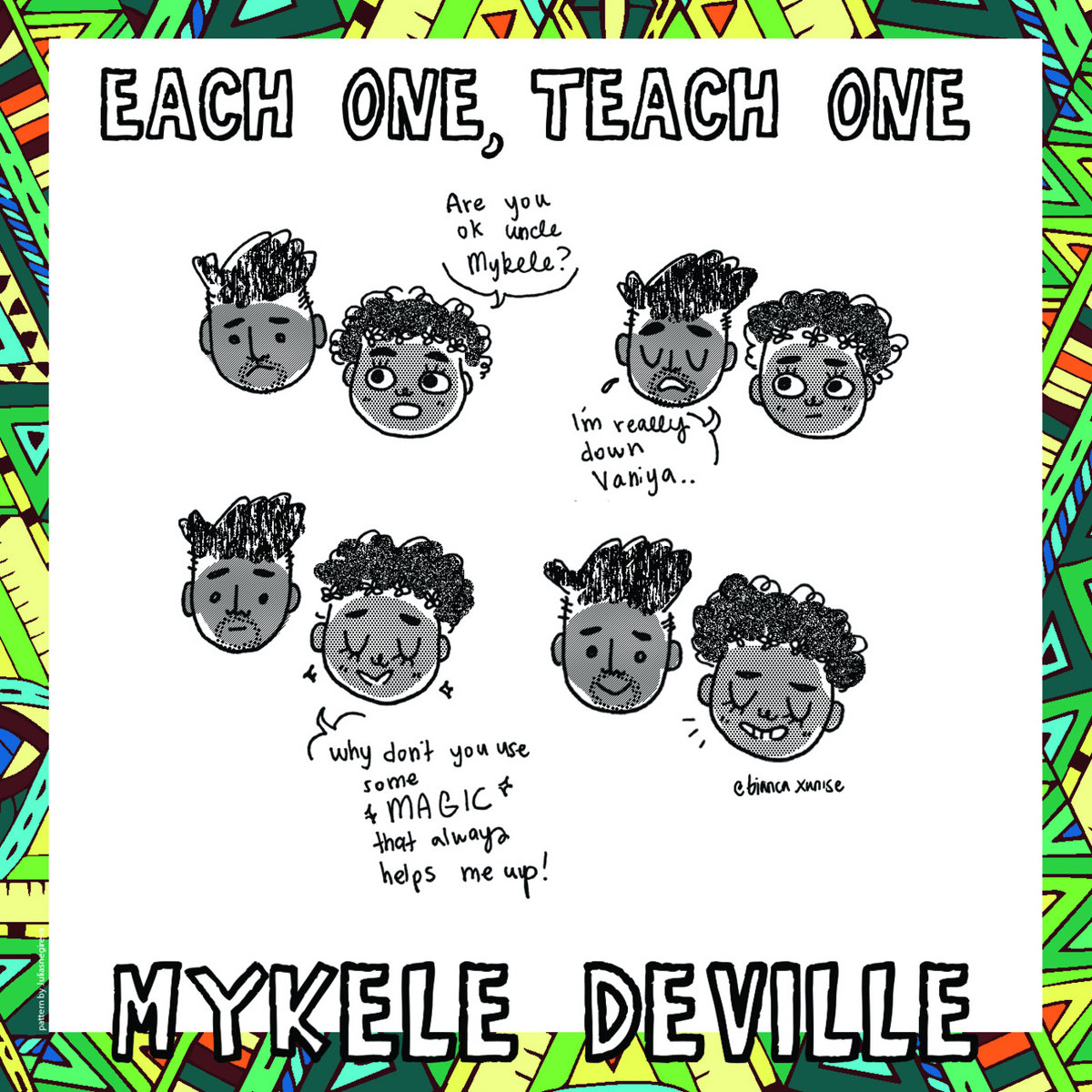 Mykelle Deville –

each one, teach one
Many year ending lists have had many great political pieces of music in their #1 slot. As a journalist and politically engaged person, I definitely find music with revolutionary tendencies to be the most potent and valuable from a cultural standpoint. This is why each one, teach one cannot be ignored. It's truly a masterpiece and it's not even the only amazing album Mykelle Deville released! His first mixtape of the year was Super Predator, but due to a one artist-one album policy, it was not included. Regardless, each one, teach one is a tireless piece of rap journalism. Centered around the narrative of Deville's young niece who lives on the West Side of Chicago, Mykelle searches out the emotional strength of his young relative. All the while he searches for answers to societal and personal problems on a hip-hop odyssey that engages in all mediums of the rap genre. From pitter-patter modernity to Pharcyde inspired boom baps and sample laced interviews/skits, Deville gives us a sense of his anxiety about the fate of his niece, of his fellow black folks, and the condition of his city. He has no qualms with unpacking the aggressive nature of whiteness and the police, but seems to offer a sense of optimism and hope amidst the fallout. The fact that this record was created in a matter of weeks is astounding. It's amazing storytelling and it's even better production from Deville and fellow chicago producers Chris Lee and Colin Mulhern. Each track is distinct and impactful in it's style and story, and that's what makes it the best piece of music of 2016.
Written by Cal Brennan